What is Lemon Club?
The Lemon Club is a student-led club that functions under the direction of ALSF to raise awareness and funds for childhood cancer research. ALSF believes that high school and college students play a vital role in helping bring awareness and attention to the cause of childhood cancer. Through The Lemon Club, students have the opportunity to engage a broad range of people and resources (e.g. students, teachers, community and forums) about the need for funding childhood cancer research projects. ALSF's Lemon Clubs plan and execute on and off campus fundraisers for the duration of their school year. Lemon Club chapters are encouraged to host a variety of awareness and fundraising events to help spread the mission of ALSF and to meet their fundraising goals.
Why Lemon Club?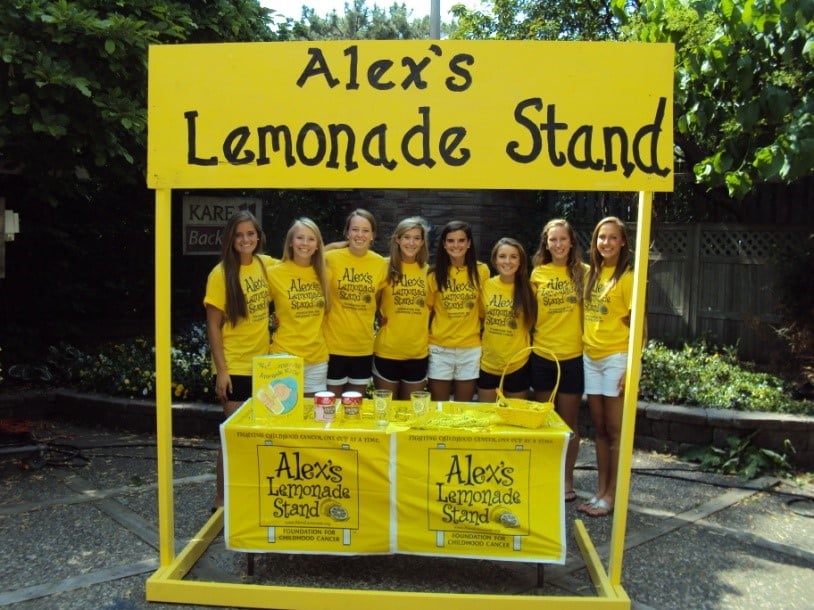 Starting an official Lemon Club is a fun and exciting process.
Create a local branch of ALSF.
Connect with families and community members affected by childhood cancer.
Become part of something larger.
Be a leader.
Work one-on-one with ALSF staff throughout the school year.
Receive ALSF merchandise and kits to help you with your events.
Contact Allison Lautman at [email protected] or (866) 333-1213 for more information about Lemon Clubs and other ways schools can get involved.
Fundraising page totals may not reflect all your mailed donations! Please allow one week or up to one month during lemonade season for mailed donations to show up on your page.
Events with Recent Donations
| Event Name | Location | Amount |
| --- | --- | --- |
| University City ALSF Club | Philadelphia, PA | $1,618 |
| CCHS Lemon Club | Egg Harbor City, NJ | $203 |
| Lemon Club Ole Miss | University, MS | $85 |
| Donations! | Slippery Rock , PA | $406 |
| AP Schalick's lemon club | Pittsgrove, NJ | $680 |
| ASHS Lemon Club | Abington, PA | $1,441 |
| Camden Catholic High School Lemon Club 2022-2023 | Cherry Hill, NJ | $159 |
| Viewpoint Lemons 4 Life- 2022 Lemon Club | Calabasas, CA | $420 |
| Oakcrest High School | Mays Landing, NJ | $1,200 |
| RV's Lemonade Stand | Mount Holly, NJ | $888 |
See more »