Parent to Parent Network
Alex's Lemonade Stand Foundation's Parent to Parent Network provides the opportunity for families to connect with one another.  In addition to attending fundraisers and speaking on behalf of our foundation, Hero Ambassadors are also available to help families cope by providing emotional support and sharing their experiences with other parents whose child shares the same diagnosis or is going through a similar situation.  Parents can connect through emails, phone calls, or if they are comfortable enough, by meeting in person. 
If you are a parent with a child who has/had cancer, and would like to connect with one of our Hero Ambassadors, please click here to request an ambassador.  We will find a family or families that are most fitting according to your preferences, and provide a brief background.  Once you and the Hero Ambassador agree to connect with one another, an introductory email will be sent you both.
Please note:  Our Hero Ambassadors are not able to offer any medical advice/ treatment guidance.  This program is intended to help families cope with the disease by lending emotional support and sharing experiences with one another.
---
Parent to Parent Story:  Kristie & Megan
"As soon as I met her, I knew her.

She is a mom of a little boy with neuroblastoma, just like me.

I had only emailed her for a few months after having been matched up to be her mentor through the Alex's Lemonade Stand Foundation's Parent to Parent program. We were matched up because we live only a few hours apart and both of our young sons had been diagnosed with Stage III Intermediate Risk NB.

I knew of her son William's story and a little bit about their family, but after spending half of a day with them at the Strong National Museum of Play, I felt like I knew her heart...because so much of her heart was just like mine.

When two cancer families meet it is like connecting with an old friend. You bond over similar experiences, tear up when you can literally feel the agony that they have experienced because you have too, and you instantly feel drawn to their precious child who has suffered as your child has. It is terrible to have to meet a friend in that way, but the connection is deep and beautiful.

…Thank you ALSF for your work in this program. It truly has made a difference in the lives of our two families."

-Megan Williams, New York
Mother to Brady Williams, Neuroblastoma Survivor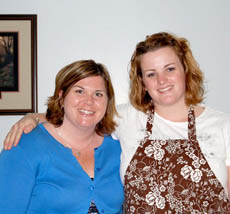 Kristie (L) and Megan (R)

Kristie & Megan's kids: (top) Brady, Cara & Nicholas (bottom): Eli, William & Allie