Awards and Recognition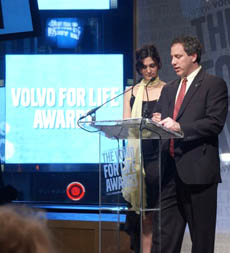 Alex Scott, her family, and Alex's Lemonade Stand Foundation have been honored with numerous awards, including:
Good Housekeeping Hero For Health Award 
Philadelphia 76ers Hometown Hero Award
The Philadelphia Foundation's Philanthropist of The Year
Philadelphia Magazine's Best Philadelphians Award
Volvo For Life Award
The Association for Fundraising Professionals Youth in Philanthropy Award
Kellogg's Child Development Award
Please Touch Museum Great Friend to Kids Award
The Sunshine Foundation's Impossible Dream Award
PPRA Gold Medal Award
Ben Appelbaum Advocate for Youth Award
Philadelphia Sports Writers Humanitarian Award
The Gilda's Club Ann Silverman Award
Paul Harris Citation from The Rotary Club
Gamma Sigma Sigma Woman of the Year
University of Connecticut Humanitarian Award
Two awards have been named in Alex's memory.  Volvo Cars created the Alex Scott Butterfly Award which was given to a child who, like Alex, demonstrated extraordinary conscience, care, and character in helping others. The Philadelphia 76ers have renamed their community service award - The Hometown Hero In The Spirit of Alex Scott Award.
Alex's story has been featured on The Oprah Show, The Today Show, The CBS Early Show, The CBS Evening News, CNN, MSNBC, Fox News, and hundreds of other news outlets across the country.
Alex's Lemonade Stand has also been featured in People Magazine, Sports Illustrated, Good Housekeeping Magazine, and many other local and national magazines. Hundreds of newspapers worldwide have run stories about Alex and her lemonade stands as well as other children holding stands,  including, The Philadelphia Inquirer, USA Today, The Boston Globe, The Washington Post, The Chicago Tribune, and The New York Times.
USA Today recognized Alex among 21 worldwide figures whose lives affected news, entertainment, sports and business in 2004; the Associated Press listed Alex in its "Roll Call of Notables who died in 2004;" Main Line Today Magazine named her "Person of the Year"; and The Philadelphia Inquirer had Alex's Lemonade Stand as one of the top 10 news stories of the decade.