Thank you for helping to fight childhood cancer, one cup at a time. Your donation will make a difference!
Please download and complete the form below and mail with your donation to:
Alex's Lemonade Stand Foundation
111 Presidential Blvd., Suite 203
Bala Cynwyd, PA 19004 USA
To send in a donation by mail, please print and fill out our donation form. You may also sign up for the One Cup at a Time Club, our program for recurring donors!
To donate in honor of someone: You can make a tribute gift for anyone or for any occasion. We will happily notify the tribute recipient of your gift in their honor. Please print and mail our honor donation form.
To donate in memory of someone: Your donation in memory of a loved one will make a difference for children with cancer. We will notify the family of your memorial donation according to your wishes. Please print and mail our memorial donation form.
We gladly accept any donation by mail. A form is not required, but helps us acknowledge your gift properly.
Thank You!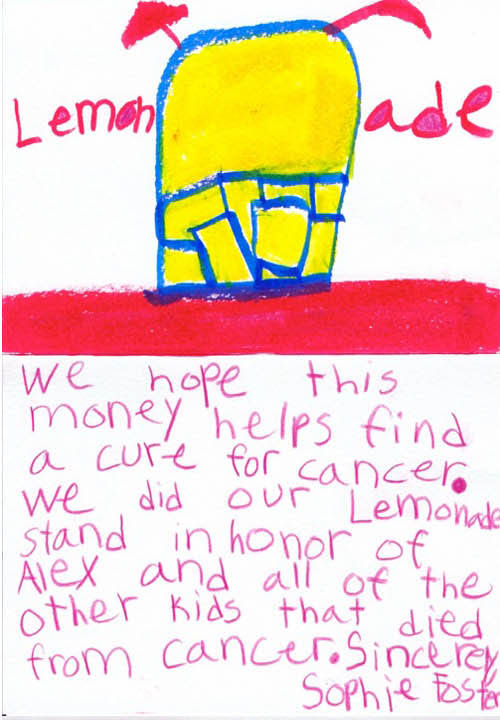 ---
All contributions to Alex's Lemonade Stand Foundation are tax-deductible to the fullest extent allowed by law. We suggest you check with tax advisor to verify the tax deductibility of your gift.
Alex's Lemonade Stand Foundation is exempt from Federal income tax as described in section 501(c)3 of the Internal Revenue Code. The official registration and financial information of Alex's Lemonade Stand Foundation may be obtained from The Pennsylvania Department of State. Registration does not imply endorsement.