Due to the COVID-19 pandemic, we are not asking heroes to attend in-person events. If you wish to have a hero representative part of your event, we can accommodate recorded videos, video conferences or other virtual options. We appreciate your understanding at this time.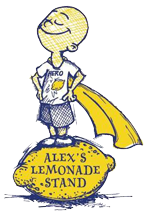 Are you hosting a fundraiser to benefit ALSF? Nothing resonates more with participants and donors than a personal story of childhood cancer. Click here for more information about our Hero, SuperSib and SuperFriend Ambassadors.
If you are hosting an ALSF fundraiser and want to include an Ambassador in your program, fill out the form below. Ambassadors can attend and speak at your event on behalf of the Foundation, sharing their stories with donors and volunteers while emphasizing the importance of raising funds and awareness for childhood cancer.
Tips for Incorporating an Ambassador at your Event
Ambassadors make the most impact when speaking and sharing their story in front of an audience, but they can speak one-on-one as well.
Ambassadors can share their personal connection to the cause while emphasizing the need for funding research and thanking donors and volunteers for their support.
Please ensure that the event can appropriately accommodate a special speaker, and that the role of the Ambassador is utilized as ALSF intends.
Ambassadors are not available in every city and state. If you'd like to request an Ambassador to attend your event, please provide at least three weeks advance notice so we will have sufficient time to coordinate.
For questions or comments, please contact [email protected].